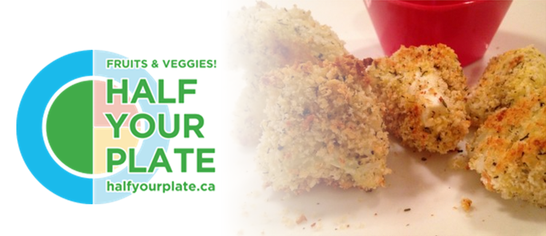 1 medium cauliflower rinsed and cut into florets
1 egg
1 egg white
1 tbsp water
1 1/2 cups bread crumbs
1 tbsp Italian seasoning
2 tbsp Parmesan cheese
1. Preheat oven to 425 F
2. Beat egg, egg white and water in a bowl, set aside.
3. Mix bread crumbs, Italian seasoning and Parmesan cheese in a bowl, set aside.
4. Dip florets, a few at a time, in the egg bath and then in the bread crumb mix, being sure to coat the cauliflower.
5. Set on a baking sheet lined with parchment paper.
6. Bake at 425 F for 20 minutes or until brown.
7. Dip in favorite dressing.
Serves 5
Nutritional information for this recipe is available at Half Your Plate.